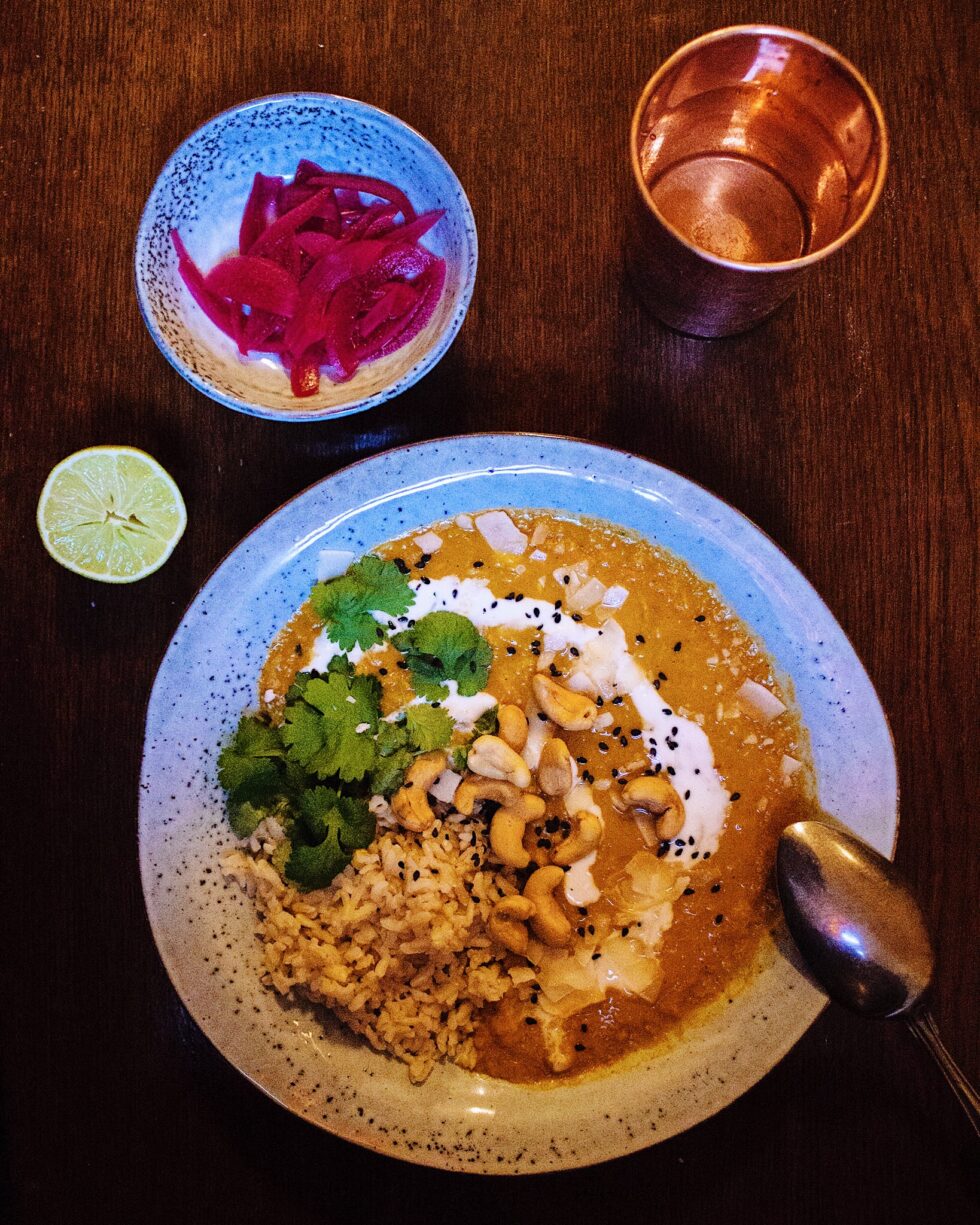 Elsa's Moong Dal
Spending a lot of time in India in my life I've come to see dal as one of my standard meals. I usually start the week by making a dal that can also be re heated as a quick lunch later in the week. My kids has grown up with it and gladly eat this nutritious and nourishing dish several times per week.
So what is a dal, anyway? Some might translate it to "lentils" but that's actually not correct. Moong Dal means split mung beans, you know the tiny green beans that we more commonly eat sprouted around here. They have been dried, shelled and split so they look more like a flat yellow lentil. I usually buy my moong dal from the health store or an Ayurvedic/Indian shop. If you can't find moong dal where you live you can use red lentils in this recipe with a similar result.
So this dish, that I now make so often I could do it in my sleep, is packed with nutrition. From all the essential vitamins like Vitamin C, Vitamin K to minerals like iron, calcium, potassium, magnesium, copper, zinc and many more. This dish is also low in calories and is a high source of protein, fibre and antioxidants. It has anti-inflammatory properties that helps fighting off harmful bacterias, viruses and colds.
It is also a very cheap dish to prepare, especially if you buy rice and lentils in bulk.
One note on the spices, I always select organic and high quality spices as it is very important both for the taste and the health benefits. Try going to your local asian market and ask for their blend of garam masala?
Ingredients
2 tbsp coconut oil
4 dl split mung beans
2 onions
4 garlic cloves
2 tbsp fresh grated ginger
1 tbsp garam masala
1 tsp ground cumin
2 tsp ground turmeric
1 cube vegetable bouillon

 

2 tbsp tomato puree
2 bay leaves
10-12 dl of water
optional:chili powder or fresh chili
Instructions
Rinse the pulses in water until the water is clear.
Dice the onions finely and grate the garlic and ginger.
Heat oil in a heavy base saucepan and fry off the onion and garlic until translucent. Add the cumin and turmeric and fry for one minute.
Reduce the heat to medium and add the tomato puree.
Add the mung beans, ginger, bouillon cube, bay leaves and water in the saucepan. Cook for 10 minutes uncovered stirring regularly.
Reduce the heat and cover the saucepan with a lid. Cook for a further 20 minutes, stirring regularly so the mung beans don't stick.
When the pulses are soft and ready for serving add the garam masala and check if the dish needs salt
Cook a further minute or two.
Serve with brown basmati rice, fresh coriander, roasted cashew nuts, lime, pickled onions and a drizzle of salted yoghurt.