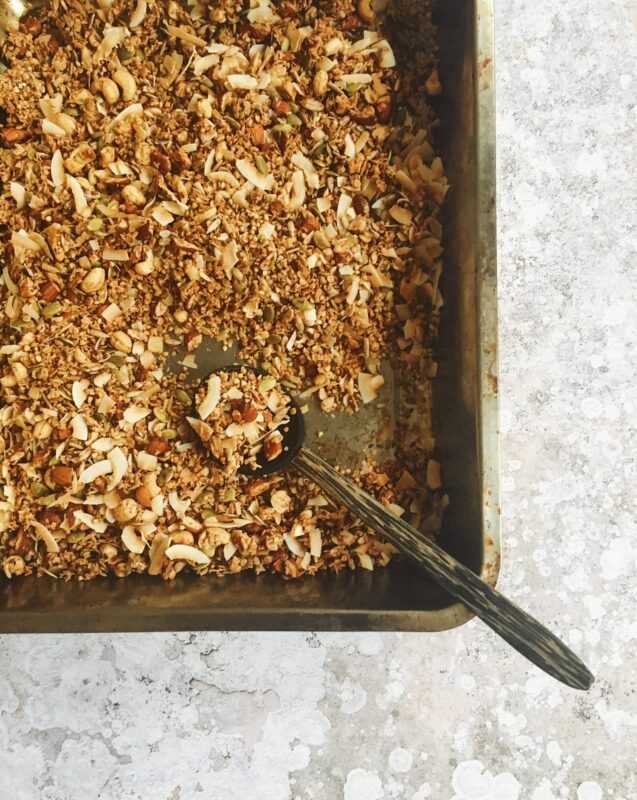 Gluten Free Cinnamon Buckwheat Granola
This granola is the breakfast staple for my husband and kids and I make it every two weeks and have done so for years now! I personally don't have it for breakfast as I'm advised (by my Ayurvedic doctor) to have warm oatmeal as my first meal. But on weekends or even for lunch sometimes I love to add this delicious granola to smoothie bowls or some plant yoghurt along with some wild blueberries.
Ingredients
8 dl Gluten free Oats
3 dl Whole Buckwheat
2 dl Raw Chopped Almonds
2 dl Raw Chopped Walnuts
2 dl Raw Chopped Cashews
2 dl Raw sunflower seeds
2 dl shredded coconuts or coconut flakes
2 dl Cup Raw whole pumpkin seeds
1 dl flax seeds
For the liquid part:
2,5 dl Agave syrup
2,5 dl Coconut Oil
1 & ½ tbsp Cinnamon
1 tsp Himalaya Salt
1 tsp Vanilla
Directions:
Preheat oven to 160 degrees C. Heat the honey/oil/spices-mix in a small sauce pan on medium until it boils. Remove from stove. In a large bowl mix together all of the dry ingredients. Pour the oil-mixture over the dry ingredients and incorporate well. Spread half of the mixture evenly onto a baking sheet and bake for 20-25 minutes. Now bake the remaining half of the mixture. Let cool and store in an airtight container for up to 2-3 weeks.